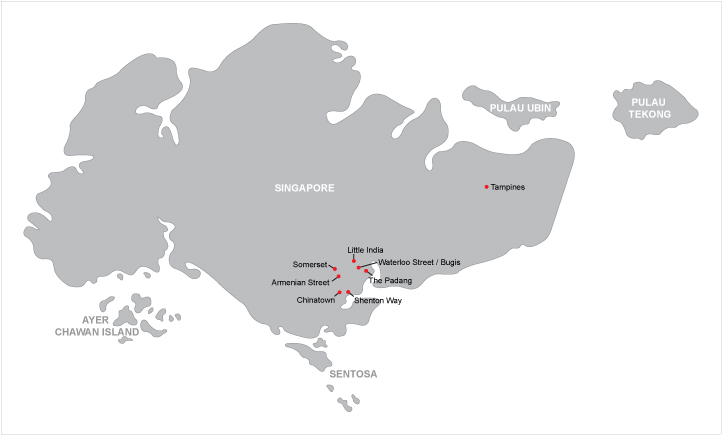 September 1st 2006 [ labels & set up | somerset MRT | shenton way | waterloo str | substation / armenian str | the padang ] September 2nd 2006 [ little india | chinatown | bugis | tampines | power van ]
[ project credits ]





Breaking NEWS, September 20th: Now online all the videos in streaming windows media player format (and images) of the project.





POWER STATION: Sense of belonging, nationalism, economy, and global village. SATELLITE EVENT **** OF THE SINGAPORE BIENNALE 2006
Presented by the Italian Cultural Institute in Singapore, this satellite project by Stefano Cagol is the only Italian presence at the Singapore Biennale 2006.



DETAILS
WHO: Stefano Cagol
WHAT: public art project
WHEN: 1st to 2nd September, 2006
WHERE: various public locations: City and city center on the 1st, National Museum and residential areas on the 2nd.
CURATOR: Ong Puay Khim, Ms







INFO: Info & images
puaykhim.ong@powerartifice.com / info.iicsingapore@esteri.it / info@stefanocagol.com

THE FIRST IMAGES OF THE PROJECT +-+--+---
PDF MEDIA RELEASE ENGL
PDF MEDIA RELEASE ITA
PDF STEFANO CAGOL CV
TAKE YOUR POSTER !!!
TAKE YOUR FLYER !!!


Official artist web site: http://www.stefanocagol.com


POWER STATION is presented by
IIC - Istituto Italiano di Cultura - Italian Cultural Institute of Singapore
101 Thomson Road # 07-03 United Square
SINGAPORE 307591
Tel: +65 62553073 Fax: +65 63522005
http://www.iicsingapore.esteri.it





For more information on the Singapore Biennale 2006, visit http://www.singaporebiennale.org or contact the Secretariat at (65) 6837 9270.


All artworks and texts published on this web site are for personal use only and are not for use in the public domain.
All works and texts are copywritten by Stefano Cagol and the Italian Cultural Institute of Singapore and cannot be reproduced electronically, or by any other
means without permission of the artist!Ê Unauthorized duplication is very very bad karma.
-Stefano Cagol, all rights reserved.© 2006 Stefano Cagol - Home -